Welcome to Cappadocia, one of the most beautiful regions of Turkey! And if you are here, have in mind two things: take a ride...
The topless blue magnificence is known as Pagani Zonda HP Barchetta and it's an instance of how Horacio Pagani envisioned his perfect Zonda. The...
An astonishing car, the Bentley Continental GT has been on the market for 14 years now, and though it obtained numerous updates and tweaks as...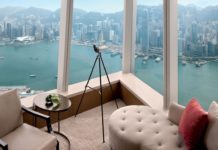 Expertise Asia's financial heart like never before at The Ritz-Carlton, Hong Kong, the place where a world-class Spa, rooftop deck, unbelievable delicacies, and breathtaking...
Samsung's 'big smartphone' Galaxy Note 8 is finally right here. With the all-new Samsung Galaxy Note 8, the company wants to forget the tragic...
Probably you still  keep in mind that flip phones have been all over the place back in the 2000s, and represented the last word...
Get your digital copy of Better Magazine!

It must be really tough. Do you think you are just a victim of bad luck and that's the reason Ms. Perfect hasn't appeared...