We said goodbye to a good friend and a genius in Photography, Andre Rowe. Talented, kind and generous Andre has touched every single person he has met and worked with. His work and character spoke for itself! He was a true angel walking on earth. It is a very sad day for those of us on earth and a tragic loss for the industry. Although a sad day on earth it's a happy day in Heaven, another angel has come home.
We will all miss you!
---
In Better Magazine no.1, we had this interview with Andre, regarding his great work. Read it and have a good though for our friend we miss so much. Interview by Ana Braga.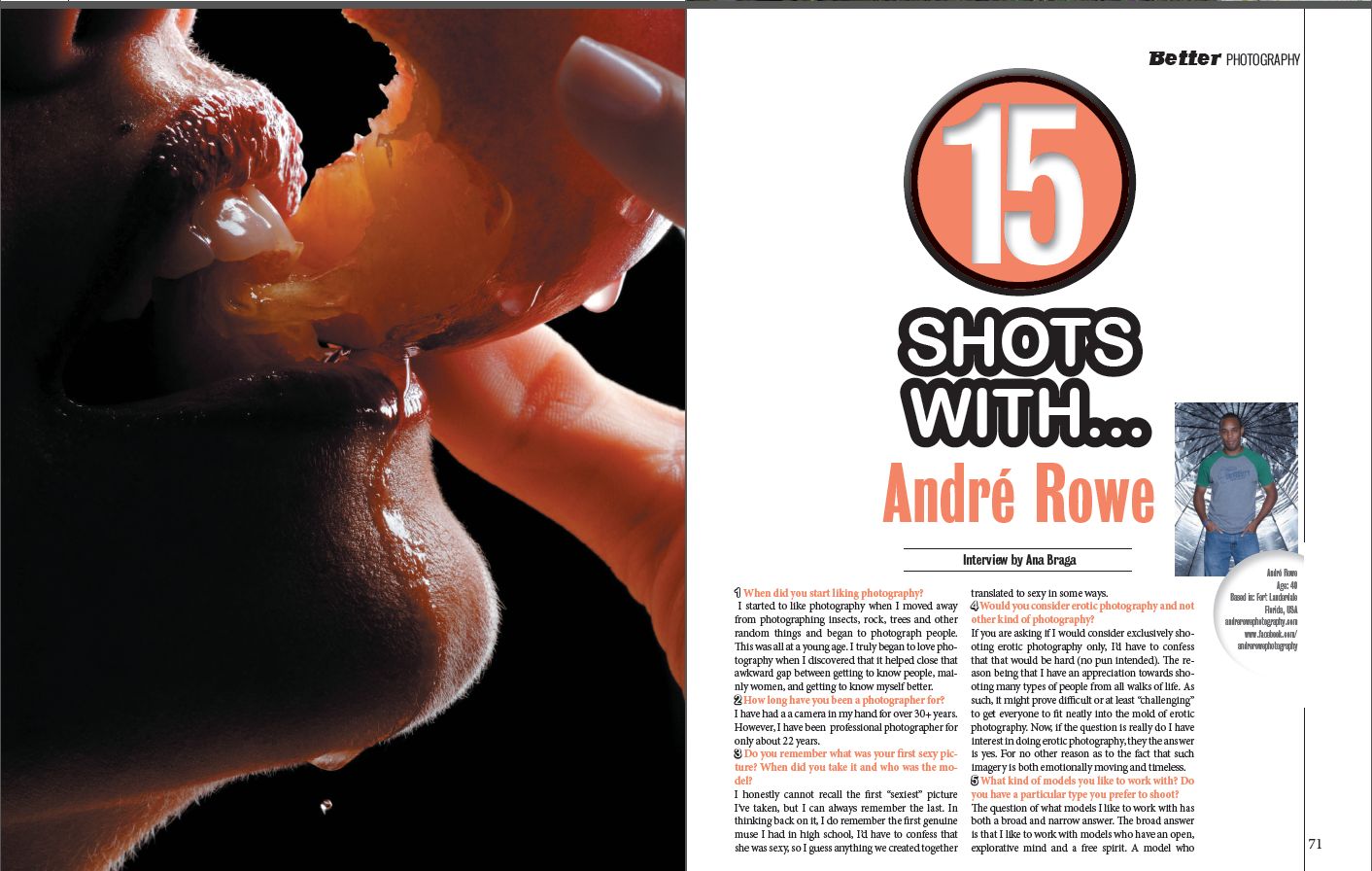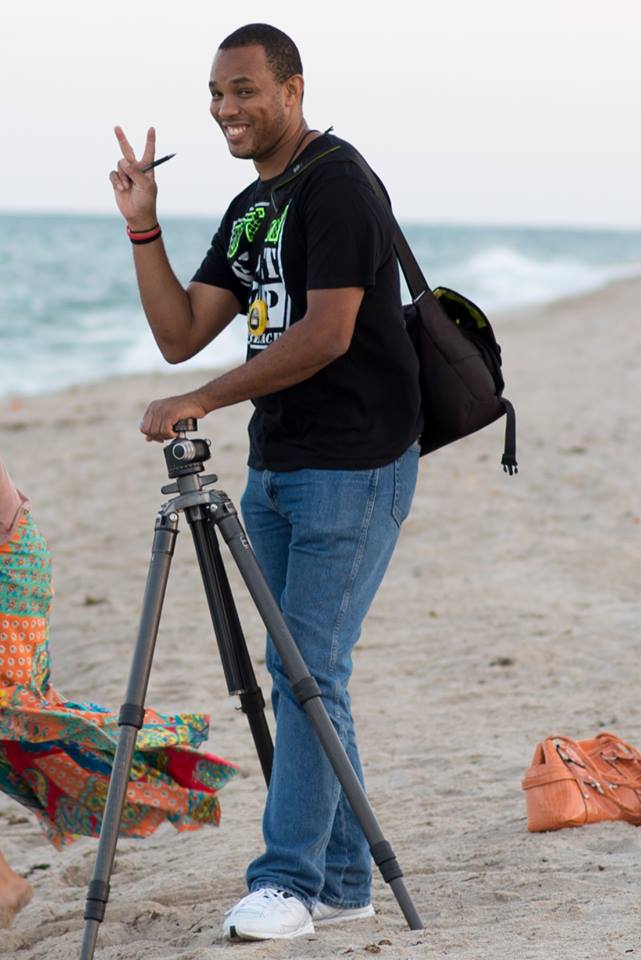 1 When did you start liking photography?
I started to like photography when I moved away from photographing insects, rock, trees and other random things and began to photograph people.
This was all at a young age. I truly began to love photography when I discovered that it helped close that awkward gap between getting to know people, mainly
women, and getting to know myself better.
2 How long have you been a photographer for?
I have had a a camera in my hand for over 30+ years. However, I have been professional photographer for only about 22 years.
3 Do you remember what was your first sexy picture? When did you take it and who was the model?
I honestly cannot recall the first "sexiest" picture I've taken, but I can always remember the last. In thinking back on it, I do remember the first genuine
muse I had in high school, I'd have to confess that she was sexy, so I guess anything we created together translated to sexy in some ways.
4 Would you consider erotic photography and not other kind of photography?
If you are asking if I would consider exclusively shooting erotic photography only, I'd have to confess that that would be hard (no pun intended). The reason
being that I have an appreciation towards shooting many types of people from all walks of life. As such, it might prove difficult or at least "challenging" to get everyone to fit neatly into the mold of erotic photography. Now, if the question is really do I have interest in doing erotic photography, they the answer is yes. For no other reason as to the fact that such imagery is both emotionally moving and timeless.
5 What kind of models you like to work with? Do you have a particular type you prefer to shoot?
The question of what models I like to work with has both a broad and narrow answer. The broad answer is that I like to work with models who have an open, explorative mind and a free spirit. A model who doesn't quickly conform to what society dictates they "should" look like at the end of a creative collaboration. The narrow answer to the question is that I like models that can envision themselves as being "more" that they appear to be. Models who can see themselves as iconic, dynamic, and unique. Such a person can really "look" like anyone, which is why I do not have or hold firm to a model being of a certain "type".
6 Give us the definition of woman!
The definition of a woman to me is female with presence (evoking power with which she can at least sway a man's attention), confidence (in her own self and her actions), direction (without compromise of her own ideals), and positivity (which serves as an spring of inspiration for those around her).
7 Artistic nudes or straight nudes – what's your favourite style?
Between the two, artistic nudes by every measure of the genre. My favorite style of artistic nudes is the shape-filled and shadowed. I relish in the idea that if
an image has form and if the subject is unidentifiable, that the image will somehow last forever, becoming timeless and immortal.
8 What are the elements for a perfect photo session?
The elements of a PERFECT photo session is a team of people who are all on top of their individual game. A team that once pooled together, will waste no time, be highly efficient in their creative endeavors, share generously in the creative vision, be non-impeding in the contributions of the rest of the team, and complimentary in their shared / combined work ethic.
9 You prefer to shoot in studio or outdoor? Why?
I always, for a very long time prefer the challenges of shooting outdoors or on location. I especially enjoy the surprise of changing lighting and environmental
conditions that force me to really resort to discipline and focus while working. I say this because on more than one occasion that I can recall, I tend to fall into
a sort of "auto-pilot" mode when the circumstances of a shoot force us top take longer to complete an assignment than is necessary. Circumstances like a make-up artist taking an hour longer than planned to complete their work when there is a deadline over our heads.
10 Who is your iconic photographer?
Easy – Patrick Demarchelier
11 Tell us something funny that happened with a model during your sessions.
Although it was not funny at the time, I remember an occurrence while shooting on a beach late at night. It was a swimsuit shoot that ended up being a nude shoot in the surf by the rocks. Apparently, the flash intensity of my strobe system travelled about 8 kilometers into the window of someone trying to sleep. They ended up calling the police, who ended up coming, and staying back in the dark watching for a bit before asking us to pack up and leave.
12 Are you on Instagram? What's your opinion about this new kind of photography: iPhoneography. Would you ever consider doing a pictorial with the Camera phone?
I am on INSTAGRAM under the name rowephotography. I don't really have take on iPhoneography. I can see it value by its ability to enhance the awareness of photography as a viable form of expression and outreach, however I do believe it is a long way off from being my "go to" camera system.
13 How do you describe your photography?
The best descriptive words to describe my photography is clean, technical, balanced (compositionally) and color-rich.
14 In your words, what separates you from the rest as a photographer?
I'd say that the one aspect that really separates me and further defines my photography is that I strive to capture my shot with 4 mins. I never set lights before the model is on set, unless there is a timeframe in which we must complete a shoot. I religiously use a lightmeter so as to never gauge by the camera's LCD. I tend to do most of my editing in "realtime" while shooting instead of at the computer. I tend to turnaround most work within 24 hours so that I am back behind the camera more frequently.
15 How can we keep in touch with you? IG? Twitter? Facebook?
I have a presence on the major social media outlets, however my choice platform is Facebook – www.facebook.com/andrerowephotography